Researches and scientific articles of efficiency of Tamanu oil

---
PROTECTING EFFECT

The protective effect against external aggressions is assessed by induction of an irritation at the nasolabial folds with a solution of lactic acid before and after application of Tamanu oil. The results obtained allow us to conclude that Tamanu oil has a very good protective effect against the aggressions of the natural environment.
REGENERATING EFFECT


On reconstituted epidermis, we assess the cell viability after irritating treatment and application of a solution containing 3% of Tamanu oil. The results show that Tamanu oil induces a recovery of cell viability of approximately 7% (compared to a control).
EFFICIENCY ON HEAVY LEGS


After two daily applications for 5 days, the original Tamanu oil increases the microcirculation of approximately 5% in 63% of the volunteers. 8h after the first application, 81% of volunteers reported an improvement in skin condition and appearance. 69% found their legs lighter and 63% found their legs less tired.
EFFECT ON VEGF SYNTHESIS (VASCULAR ENDOTHELIAL GROWTH


Under the experimental conditions, Tamanu oil increases VEGF production, compared to untreated cells, especially after 6 hours of exposure (+69%).
ANTI-OXIDATION AND UV-BLOCKING EFFECT


The antioxidant effects of Tamanu oil have been demonstrated by significantly reducing intracellular ROS production.

Among the different oils, Tamanu oil is the only one with good UV absorption in the remarkable absorption spectrum from 260 to 400 nm. In fact, 85% of DNA damaged by UV radiation was shown to be inhibited with 1% Tamanu oil without any in vivo eye irritation. This result shows the UV resistance of the Tamanu oil.
ANTI-BACTERIAL EFFECT

The bacterial activity was assessed by determination of the minimum inhibitory concentration (MIC) on the growth of a bacteria. The action of Tamanu oil on bacterial growth, and particularly on Propionibacterium acnes, proves that she has a good inhibitory effect and can limit the resulting irritation phenomenal: 0.125 mg/ml < MIC < 0.250 mg/ml.» It is interesting to note that these results are quite similar with the MIC of Zinc derivates, known for their antibacterial properties.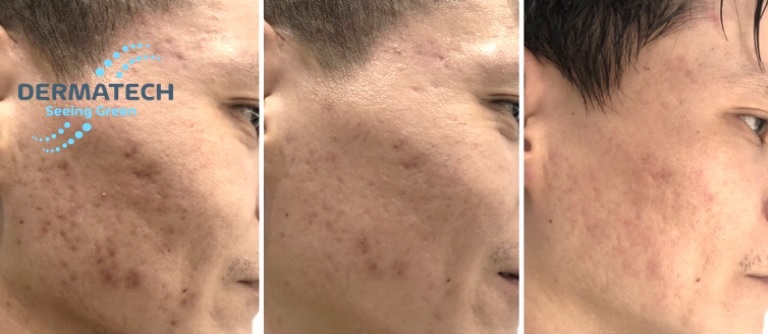 The actual pictures show the effectiveness of the skin restorative, prevent acne cream using Natural VN Tamanu oil GL (5%) after 45 days of use and after stopping using with no new acne.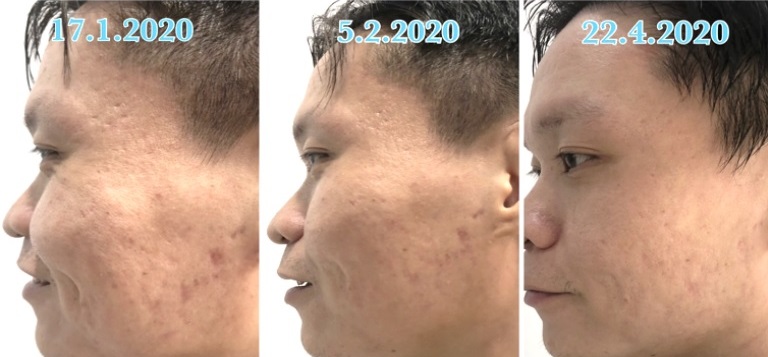 The experiment was followed up by the Application Development team - Dermatech Vietnam company.
ANTI-INFLAMMATORY AND HEALING EFFECTS

Tamanu oil is tested on a reconstructed epidermis to assess the production of interleukin IL-1 alpha after exposure to 0,5% SLS (Sodium Laureth Sulfate).
Tamanu oil significantly reduces the production of pro-inflammatory cytokines IL-1 alpha (illustration). These data can be considered as predictive of a protective and an anti-inflammatory effect on the skin."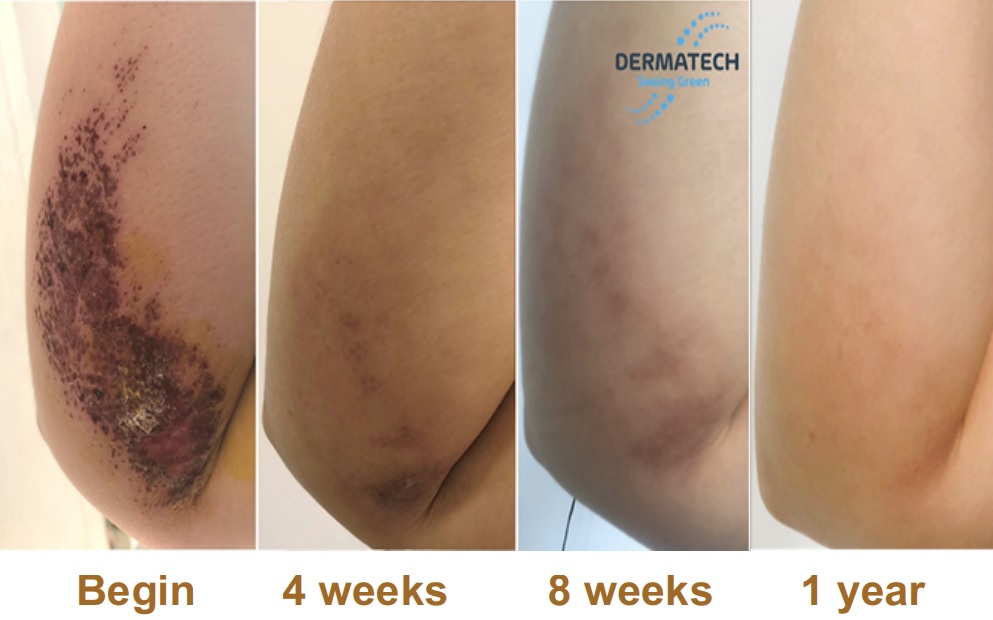 Experimental pictures show anti-inflammatory, wound healing, cell regeneration of Tamanu oil after 4 weeks, and fading dark spots of Natural VN Tamanu oil GL in the next 4 weeks. Experimentalists combined Vietnam Nano Turmeric 4 weeks. Experimentalists combined Vietnam Nano Turmeric damaged skin 2-3 times a day for 4 weeks, then apply a lightening cream using 10% of Natural VN Tamanu oil GL daily for 4 weeks. Follow up and capture the affected area before and every 4 weeks and after 1 year.
The experiment was followed up by the Application Development team - Dermatech Vietnam company.